---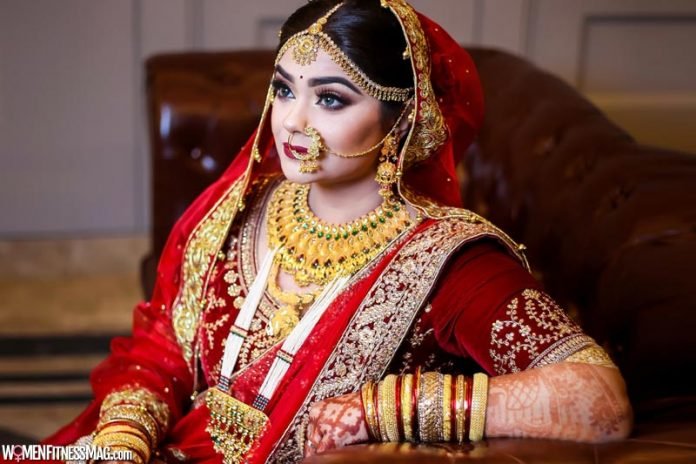 Effortless Ways to Repurpose Your Indian Bridal Jewelry : Apart from your wedding ensemble, bridal jewelry is that one element that makes a difference to the final look of any bride.
Thus, a bride takes ages to find the right traditional Indian jewelry. But after the wedding is over, have you wondered to repurpose that heavy bridal jewelry? The classic and ethnic designs on the jewelry make it overwhelming to pull them off in casual gatherings. But with a bit of styling, creativity, and imagination, you can change the look of your bridal jewelry to make it more suitable for modern tastes and casual events. So, here are some effortless ways in which you can pair your bridal jewelry with regular or party outfits and make heads turn wherever you go:
For The Love Of Gowns
Pair the traditional jhumkas with a formal cocktail gown, and you indeed love the modish vibe it lends you. A heavy-duty bridal necklace can be paired with an off-shoulder evening gown or a maxi dress. Choose a simple gown in a dark color to beautifully offset and complement your Kundan jewelry. The ensemble will make a profound style statement, leaving the onlookers stunned.
Go for A Boho Look
Try teaming your Mattha Patti jewelry with a crop top skirt set or your regular long Kurtis for a complete boho look. This look might seem a bit edgy, but this one sure is a head-turner. Boho Chandbalis have always been on top of the favourite and go very well with long Kurtis, but they are also going very well with western wear.
Add your heavy Chandbalis to a cocktail gown
If you thought Chandbalis were wedding trousseau staples, you're right. But you can style them in multiple ways to wear them repeatedly. Pair them with a cocktail gown or an evening dress for a royal indo-western look. We're sure this repurposing will be your favourite kind and grab all the attention at the next cocktail party you attend.
Rock that temple jewelry
If you are keen to reuse your bridal jewelry instead of keeping it in a vault after the wedding day is done, temple jewelry will make for a versatile addition to your everyday wardrobe. You could quickly style a piece of temple jewelry with a button-down shirt or style them with a simple kurta. Another effortless way to add a traditional touch to a modern look is by pairing a heavy temple choker with a strapless gown.
Combine two pieces of jewelry
Combining two different pieces of jewelry from separate sets can help you achieve some iconic looks which most of the latest ornaments lack. Bangles go well with a lot of outfits. Mangalsutras can be combined with Maatha Pattis or necklaces to showcase an ethnic appearance with a slightly modern touch. Be creative and try to think of ways to match different jewels together and create something new.
Pair your jewelry with a western outfit for a unique touch
While most people use their wedding jewelry only on formal occasions, the fact is that Indian jewelry can be worn with ethnic wear effortlessly. You can style these heavy pieces with western outfits to increase the style quotient. Style chokers with turtle neck top, buttoned-up, or deep neck blouses. Recently many celebrities have been spotted wearing gold jewelry with western outfits. The traditional Indian Mattha Patti will look stunning with a boho skirt or a knee-length dress.
Mix and match to confidently repeat them
Wearing your traditional Indian bridal jewelry with modern western clothes may seem confusing or rather odd to hear. But when you mix and match the right accessories with the right clothes, the fusion look is just magic. There are many ways to combine traditional accessories and modern ensembles to achieve a trendy fusion look. The Indo-western clothing-jewelry combination is quite a bold fashion statement showing off your fashion sensibilities and creativity.
Wedding jewelry is purchased with lots of thought and attention. You need to polish and clean the items from time to time to retain their status. We have provided a step-by-step guide to re-shine wedding jewelry and save them from getting damaged and wasted. There are multiple ways by which you can reuse old jewelry. Being creative and thinking of different styles that is suitable for your needs will help you to re-shine in your wedding jewelry.
Author:
Niyati Shah is a content specialist with Aurus Jewels, where she helps the digital team in developing unique, engaging, and informative lifestyle content. She covers the latest trends and topics pertaining to fine Indian jewelry, be it modern, traditional, or antique. She also writes on topics that help define and guide women, especially brides. With her experience in design and fashion, along with her passion for jewelry, she offers insightful value to her readers.
Related Videos about Effortless Ways to Repurpose Your Indian Bridal Jewelry :
Effortless Ways to Repurpose Your Indian Bridal Jewelry
bridal jewelry sets, bridal necklace, wedding jewelry for bride, indian jewelry online,
---
How to Wear Jewelry: The Ultimate Guide for Women By Women Fitness Magazine – January 5,...
Continue Reading
---
Top Jewelry Trends for Summer 2021 Top Jewelry Trends for Summer 2021 : Ladies are quite obsessed...
Continue Reading
---