---
MapMyRun vs Strava: Which One Is the Best?
MapMyRun vs Strava: Which One Is the Best?
By
–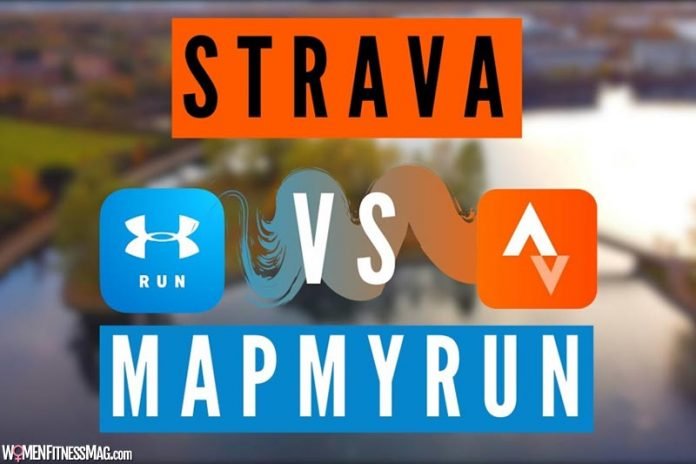 MapMyRun vs Strava: Which One Is the Best? Most runners use the running app because they are a rambling free spirit and want to analyze every step of their run in great detail. Also, it's nice to be able to compare how far they ran one week to the same week the year before.
However, the fitness industry has grown to the point that you can find many solutions online. Out of which, several best fitness apps have gained huge attention from runners.
Most of which offer similar functionality. Hence, it is challenging to choose one from these apps.
Out of all popular apps, we will compare Strava and MakeMyRun. Both these apps are worth a look if you're looking for a simple jogging app. However, there are some key differences between them, so read carefully before picking one.
MapMyRun vs Strava: What are the key differences?
We've outlined some of the key differences between the two applications below.
Tracking Your Run
Both of these apps have some decent tracking capabilities. To function, you must have your phone's location settings set to high precision, and they are adequate and accurate. It will consume your battery, so keep a battery backup bank. Think accuracy is more dependent on the phone you use than anything else.
What matters is what you can see on the map. In addition, Strava includes a beacon feature that lets other Starva users know where you are, which is essential if you're doing a trail race in unfamiliar territory and want to make sure everyone who is a premium member knows where you are.
MapMyRun includes some convenient map icons that show you where you can obtain water, toilets, emergency aid, and other information, which is pretty cool. They also have a life monitoring and coaching add-on and a countdown timer.
Live Recording
To start monitoring a workout, both apps have extremely simple and intuitive UI. in Strava, a session I credit by pressing record, trapping the shoe icon at the bottom of the screen, then pressing the red Start button. Next, select your activity in MapMyRun and click the green Start Workout button.
Though both apps appear to be easy, MapMyRun has a significant advantage over Strava regarding the number of pre-locked activities available immediately from the smartphone app. In addition, MapMyRun allows you to track various activities, including road running, trail running, walking, mountain biking, and more.
On the other hand, Strava provides a similar experience with its Route Builder. It employs a waypoint system, same as MapMyRun's route construction tool, to allow you to jump from one location to the next, linking each one along the way to form your path.
Route Mapping
This one is somewhat more complicated because it lies on the paid/non-paid spectrum.
Strava's route creation, whether on the website or in the app, is a premium feature that requires a paid subscription. With a free account on MapMyRun, you can build routes on the website if you go Premium. In addition, you'll have access to the app's Route Genius, which generates a circular route for you based on the distance you enter.
The Strava app is similar; however, you can pick how much education you want and the road surface in addition to distance. It offers three choices, each with an anticipated run or walk time.
Social Features
Strava certainly shines when it comes to social aspects. The app offers a built-in community that encourages friendly rivalry with friends and strangers alike, in addition to simple functionality like capturing a photo after a run and posting it on Facebook.
Strava crunches your data and compares it to a database of other people's statistics to assign you a rating depending on your Performance. The KOMs and QOMs, or Kings and Queens of the Mountain, are generated.
MapMyRun has social aspects as well, though they aren't as focused on community competition. You can sync it with Facebook and Twitter to share workout details, and it also features a feature called Challenges that allows you to compete against friends, similar to Strava. However, it lacks the large community that Strava provides and comparison leaderboards and segments.
Visual Data
After you've finished your workout, MapMyRun generates a chart that shows your pace and speed variations throughout the run, divided down into personalized splits, and emphasizes where the hills and includes were
You may also look at detailed heart rate graphs and see how much time you spend in each cardio zone.
Strava also lets you see your run data in graphs with compatible metrics. On the other hand, Strava has a function known as the suffer score. Based on variables like time, distance, and effort expended, the app calculates how challenging your workout was.
Monitoring your suffer score provides a picture of your overall effort and development, which should be one of the pillars of any fitness software. Moreover, a comparable function was recently implemented that compares the intensity of your workout across different sports and hobbies.
Audio Feedback
There are two options in Strava. Audio announcements and live Segments Performance. The former is free and, depending on your Performance, announces your time and pace every mile or half-mile. You can listen to the updates while running.
You can choose specific segments along your route to receive verbal alerts or on-screen motivation and stats as the current time, personal records, course records, and more with Live Segment Performance.
Similar audio features are available in MapMyRun, though both require a paid subscription. The first is voice feedback, which provides audible information, such as time and distance throughout a run. The other is Audio coaching, which allows you to create personalized training goals and receive coaching notifications as you approach them.
Conclusion
Here we conclude the detailed comparison on MapMyRun vs. Strava. Our main goal is to assist all entrepreneurs in selecting the best jogging and running app for their mobile app.
Both MapMyRun and Strava offer their own set of benefits and drawbacks in terms of statistics and figures. However, these jogging applications are very durable, effective, and efficient. Furthermore, many people regard the platform as both beneficial and trustworthy.
Related Videos about MapMyRun vs Strava: Which One Is the Best? :
MapMyRun vs Strava: Which One Is the Best?
map my run vs strava 2021, mapmyrun vs runkeeper, strava vs runkeeper distance accuracy, mapmyrun vs mapmyride, strava vs mapmyrun reddit, mapmyrun free, runtastic vs strava, garmin connect vs mapmyrun,
Recommended Posts
May 13, 2023
February 15, 2023
February 1, 2023